The Answer of the Sea (2014)
Connected or Separate, Fragmented or Whole, Known or Mysterious. A mermaid and a fish-man are connected by a beaded rope with hooks that intersect a frame whose four sides are the shape of a wave. The center is clear with the negative space of fish swimming. Emily Dickinson's poem 643 hangs from the center from a hook.
I could suffice for Him, I knew— / He—could suffice for Me— / Yet Hesitating Fractions—Both/Surveyed Infinity— / "Would I be Whole" He sudden broached— / My syllable rebelled— / 'Twas face to face with Nature—forced— / 'Twas face to face with God— / Withdrew the Sun—to Other Wests— / Withdrew the furthest Star / Before / Decision—stooped to speech— / And then—be audibler / The Answer of the Sea unto / The Motion of the Moon— / Herself adjust Her Tides—unto— / Could I—do else—with Mine? —Emily Dickinson (643)
Sea_Saw (2010)
Seascape submerged in water, hanging by a fishing hook, framed in wood, and photographed by the sea.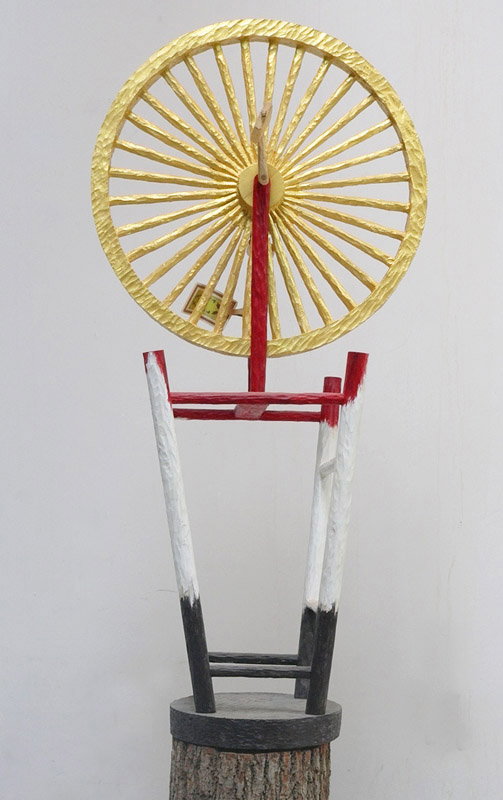 Unicycle: Made-ready (2003)
An homage to Marcel Duchamp's iconic readymade Bicycle Wheel, turned on it's head. This work is not made from parts manufactured by a factory, but carved by hand. Reorienting the stool makes it function as a utilitarian unicycle. Because of Duchamp's flirtation with Alchemy, the piece is colored from black to white to red to gold — the transmutation colors of lead to gold. A Tarot moon card clicks in the spokes.
untitled (2000)
A collision of carved archetypal symbols (chalice, crown, egg, sword, and arrow) held from the ceiling by manufactured objects painted red (wrench, necklace, school ring, hand-cuffs, gyroscope, lock, scissor, and architects curve.)
The King and I (1996)
In this piece the viewer gets to be a part of the art work. By pedaling, they activate the legs of the carved King figure and view him through the fine art convention of a gilt frame. Other people viewing this action are reminded of the old puppeteer trick obscuring the true nature of the master and puppet. The king is a Janus figure, his other face looks backwards with a mirror on his chest that reflects the spectator's gaze.
Golden Stilts (1993)
A naked, hairy man stands precariously on golden stilts. One stilt is carved with images of buildings, baby bottles, a folded flag, coins, and a leg bone. The other has abstract forms. Unfortunately, the stilts are on fire. The man silently awaits his reckoning as the mechanical fire clanks below.
In the Kingdom of the Blind, the one-eyed Man is King (1992)
This sculpture with alternating red and white legs is a blue box with a field of stars. The viewer opens the front door and like a jack-in-a–box, a carved one-eyed King extends from his glittering interior. The one good eye of the King, however, is a television set. The King's image is represented in the television set with both eyes removed.
Fragile Body (1991)
Pushing the button, the viewer engages the hinged figure in his mechanical cycle of standing (healing) then falling (illness) then standing then falling (many variations) then standing then falling then standing…